Waikiki is not only a surfer's and beach lover's paradise: it's also a great spot for dining, drinking, and having a great time. If you are planning a vacation in Waikiki anytime soon, then you have to check out the best bars in Waikiki – here is a handy list of our ten favorites.

1. Duke's Waikiki
Named after Duke Paoa Kahanamoku, the so-called "father of international surfing" as well as Olympic swimming athlete, this bar is a chilled, beachfront spot dishing out delicious local specialties alongside American food and drinks.

2. Irish Rose Saloon
If you are into Guinness and whiskey, then you must not miss this Waikiki staple. Established in 1985, Irish Rose Saloon is a tucked-away gem that brings a little bit of the Emerald Isle to the Pacific. Enjoy great Irish beers, live music every night, and yummy pub snacks.

3. Arnold's Beach Bar
Are you on the hunt for a tiki bar that combines tropical cocktails, fun games, and live music? Then, look no further than Arnold's Beach Bar. Sample one of their great Mai Tais or Margaritas, and snack on their free popcorn at the bar!

4. Lewers Lounge
Those of you who are looking for a more refined way to spend your evening should head straight to the Halekulani Hotel, one of the most famous hotels on the whole island. Here, you will find Lewers Lounge, a spectacular jazz bar that delivers fabulous live entertainment with talented musicians, as well as lush cocktails and elaborate snacks to nibble on.

5. L'Aperitif
The Halekulani Hotel is a real treasure trove, when it comes to the best bars in Waikiki. The building, in fact, is also home to L'Aperitif, which in turn is part of the five-diamond restaurant La Mer. At L'Aperitif, you can sip on a fancy, mouth-watering, and French-inspired cocktail masterfully blended by one of the on-site chefs.

6. House Without A Key
If you are at the Halekulani Hotel, don't leave just yet! You still need to check out another one of Waikiki's gems: House Without A Key. This is a wonderful oceanfront restaurant where you can soak in the traditional, relaxed Hawaiian atmosphere while enjoying local live music, hula dancing performances, and Hawaiian cocktails, appetizers, and desserts.

7. Mai Tai Bar
Are you one of those people who, when thinking about Hawaii, immediately conjures up images of umbrella drinks and tropical cocktails served in freshly cut pieces of exotic fruit, while the ocean breeze gently sweeps your hair and the sun warms your bare back? Then, Mai Tai Bar is probably the place where your Hawaiian dreams can come true! Located at the Royal Hawaiian Resort, just opposite the beach, this is the perfect place where you can enjoy traditional drinks, relax, and revel in the gorgeous sea, sun, and sand.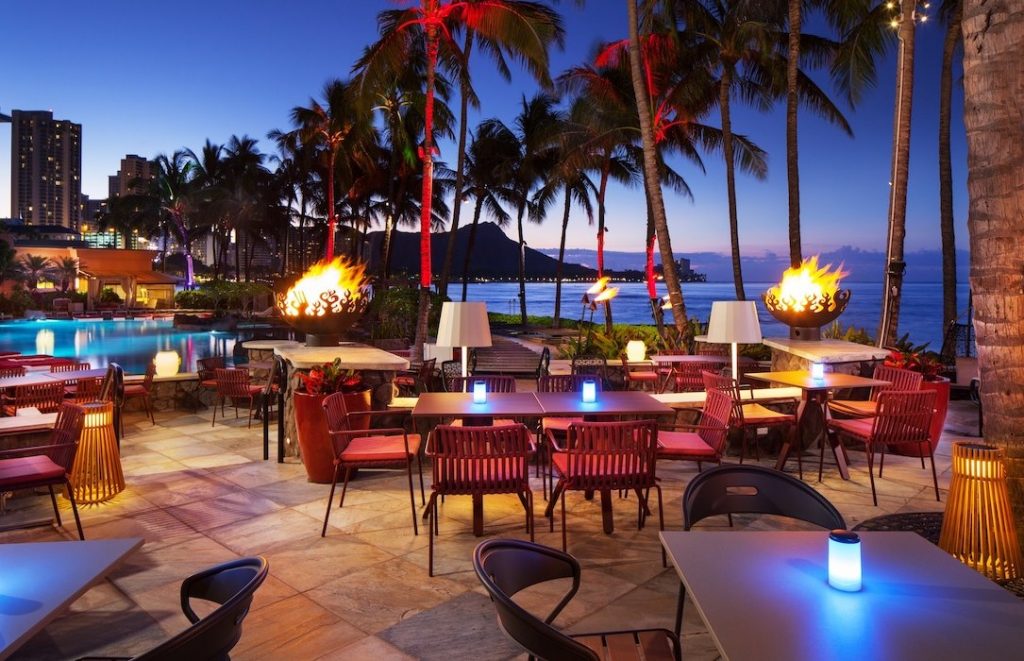 8. RumFire
Take your Waikiki romantic date to the next level by booking a table at RumFire. Ideally located in central Waikiki, this is THE place to go for those dreamy sunset drinks to share with your other half. From Sangria Carafes to Liquid Aloha cocktails, a huge selection of wines, and plenty of local beers, your date night is bound to be a success. And if you feel peckish, try out their small plates, such as the Fish Tacos and Poke Bowls.

9. The Hideout
Looking for a hip, fun, and urban rooftop bar in Waikiki? The Hideout is the place to go. As the name itself suggests, its location is a bit hidden, and you have to go through The Laylow Hotel to reach it. Whether you come for brunch, happy hour, cocktail, or evening entertainment, The Hideout has it all, and then some.

10. The Myna Bird
If you are in Waikiki, you need to check out at least one tiki bar, and The Myna Bird is a great place to start. This quirky little bar is located inside The Street by Michael Mina, which in turn is hosted inside the International Market Place. The skilled mixologists at Myna Bird serve up a large selection of fun and unique Hawaiian-inspired cocktails, most of which are served in local ceramics. Get your camera out, as their drinks and setting are so cute that they make for the perfect Instagram shot!
Explore the Best Bars in Waikiki
Are you going to be visiting Waikiki soon? Then, our guide to the ten best bars in Waikiki has certainly helped! Whether you want to sample the laid-back, local Hawaiian lifestyle, are looking for a more upscale venue, or dream of taking your other half to a truly romantic place for a date night, the options are plenty.
Which ones will you check out on your trip to Waikiki? Let us know in the comments!