1. Diamond Head State Monument
Oahu's most popular day trip and one of the best hiking spots, Diamond Head is a volcanic tuff cone east of Waikiki. 
This spot received its name from British sailors who saw calcite crystals sparkling on the peak from their vantage point at sea. Dramatic and beautiful, visitors can expect natural scenery unlike any other place when they hike to the top of this special landmark.
Although the trek up is a bit demanding, hikers are richly rewarded with expansive views of Honolulu and Waikiki, as well as neighboring islands. The hike can be completed in approximately one hour.  Not only is it a beautiful scenery, Diamond Head's plays a role in history–it served as an artillery station for the U.S during WWII.

2. Kaʻena Point State Park
Are you looking for a serene and lovely park, away from the bustle of crowds? Then Ka'ena Point State Park is perfect for you. On Oahu's west coast, this beautiful protected area boasts the island's only remaining coastal sand dunes as well as being home to myriad native plants and seabirds.
You can explore all that this amazing park has to offer in 1-3 hours depending on your preferred pace. An added bonus if you visit during winter months: You might just get to see whales along the coastline!

3. Puu Ualakaa State Park
Puu Ualakaa State Park guarantees relaxation if you're ever feeling overwhelmed by the city crowd. Or in dire need of some fresh air,  this is the place for you. 
With a few minutes drive from Honolulu's downtown area, Puu Ualakaa State park offers a serene getaway and breathtaking panoramic views of Oahu's southern coastline that never fails to amaze. 
The well-maintained hiking track to Tantalus Lookout makes it easy for everyone to access and explore Hawaiian nature at its best. So come on down to Puu Ualakaa state park, where it  provides great picnic spots with an unbeatable view— perfect for anybody who wants to relax and appreciate Hawaii's beauty peacefully.

4. Ahupuaʻa ʻO Kahana State Park
An area of Oahu's scenic windward side known as Ahupua'a 'O Kahana State Park, is more than just a beautiful coastal valley. It is home to over 30 families who still uphold ancient Hawaiian traditions and customs. The families that reside here play an important role in protecting the environment so that it can be enjoyed by future generations.
There are two hiking trails in the park that provide gorgeous views of Kahana Bay. The Kapa'ele'ele Ko'a and Keaniani Lookout Trail is shorter and passes by two Hawaiian cultural sites with panoramic views from the top. For those seeking a more difficult hike, there is the Nakoa Trek which goes through beautiful tropical rainforest scenery and takes about 2 hours to complete.

5. Wa'ahila Ridge State Recreation Area
Wa'ahila Ridge State Recreation Area provides the best of both worlds- fishing and picnicking. There are a lot of perfect opportunities to enjoy both pursuits. This park, situated near the Wahiawa Reservoir, guarantees satisfaction for all visitors.
If you're feeling adventurous, don't hesitate to use the available boat ramp and test your skills at fishing. Or, if you would rather stay on solid ground, explore any of the numerous hiking trails throughout the area. Either way, Wa'ahila Ridge State Recreation Area promises a good time for all!

6. Hanauma Bay Nature Preserve
One of Hawaii's most sought-after tourist destinations is Hanauma Bay Nature Preserve. With upwards of 400 different species of fish, it's no surprise why. The bay forms a stunning natural wine glass-shaped,  sits on Oahu's southeast coast and provides excellent snorkeling conditions. 
If you're lucky, you might even spot a group or two of green sea turtles; Hanauma Bay has become somewhat of a safe haven for them given the large population that resides here. 
This natural preserve is the perfect place to come and relax, regardless of what time you arrive. The early morning hours are great for avoiding crowds, but if you're looking for some fun, there's plenty to be had later in the day. No matter when you visit Hanauma Bay Nature Preserve, you're sure to have an unforgettable experience.

7. Ulupo Heiau State Monument
Ulupo Heiau is an excellent tourist spot for history enthusiasts who want to transport themselves back in time and get a taste of what ancient life was like on the island. 
The 'heiau' was a type of temple used for various religious ceremonies, such as sacrifice ,good harvests celebrations or the births of Hawaiian royalty. Located at Kailua, this religious site is a popular destination among tourists interested in learning more about Hawaii's past.

8. Malaekahana State Recreation Area
On Oahu's northeastern edge is the well-liked beach area known as Malaekahana State Recreation Area. Famous for its gentle waves, it draws both experienced swimmers and beginners just learning to surf. 
The park also has several dedicated campgrounds that frequently fill up; reservations are recommended if you're planning to stay overnight. All in all, it's a fantastic location for outdoor recreation with friends or family.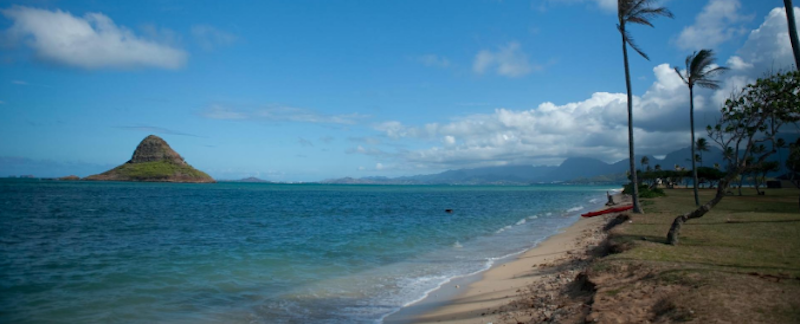 9. Kualoa Regional Park
Kneohe Bay is home to the stunning Kualoa Regional Park. This 153-acre park offers a little something for everyone, with its gorgeous white sand coastline, tranquil settings, and picturesque island backdrop. Whether you want to relax in the sun or brush up on your saltwater fishing skills, Kualoa Regional Park is the perfect place for you.
Don't miss exploring adjacent Mokoli'i Island, which was totally formed from basalt and is just a third of a mile out into the bay, if you have an adventurous spirit.
Being one of the most visited parks on Oahu, Kualoa Regional Park offers a wide variety of attractions and enjoyable activities.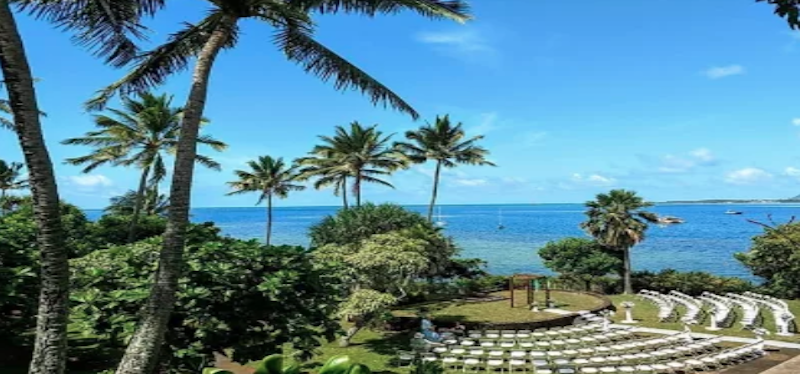 10. Heʻeia State Park
Hawaiian culture and the importance of keeping natural resources safe  are fascinating examples that you can learn through on-site educational programs at He'eia State Park. 
Not to mention, being 18 acres with a scenic bayfront, this park is perfect for groups of friends or family who want to spend quality time together fishing, stand-up paddle boarding, kayaking or canoeing. Lastly, don't forget to take in the majestic views of Ko'olau Mountain !